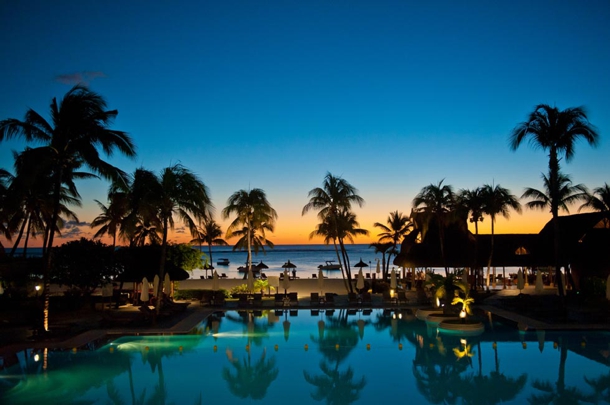 As a bride-to-be, I was literally counting the days until the wedding day was over. Mostly because I was counting the days until our honeymoon began. One crazy whirlwind of a day versus ten languid, sun-drenched days in two different Mexican beach towns? No contest. We spent a total of $1,900, which included flights, lodging, in-country travel, food, snorkeling, scuba diving, shopping at craft markets, exploring ancient ruins, town-hopping (two daytrips), rainforest wandering, lying for hours on the beach, and swimming with sea turtles, manta rays and a whale shark.
If you and yours are the adventurous type, and you're wanting to explore local culture as well as relax after the chaos of wedding planning (and you're on a budget), try these tips for planning an exciting yet restful tropical getaway.
Plan for the Off-Season
Off-season in Mexico is June and July. Hurricanes arrive in the fall, and tourists arrive December-May. We traveled in the middle of June, so prices were down, tourists were few, and local vibes were more relaxed. We flew from Indianapolis to Cancun for $800— $400 each.
Rent a Vehicle
We rented a car in Cancun immediately after arriving in Mexico ($200 for ten days), and drove to Tulum: an endearing, low-key little town two hours south along the coast. We stopped at a local restaurant halfway between and ate authentic fish tacos with our feet in the sand and the sea at our backs before continuing on to our first (of two) destinations: a tiny casa five minutes from the Caribbean sea. That car was our best investment: it took us to three cenotes (basically giant, deep tide pools) for a private scuba session and two independent snorkeling excursions, to a quaint little town two hours inland, and up and down the coast to try new restaurants, explore ancient ruins, and discover Cancun.
Rent a House
If you haven't before, do yourself a favor and visit Airbnb.com, where you can rent entirely-furnished apartments or homes, all over the world, at outrageously decent prices. We spent seven days in a one-bedroom home that we had all to ourselves, for a total of $280, before heading up to a beautiful rooftop apartment in Cancun for three days and a total of $120.
Plan Your Meals
With an incredibly limited grasp of the Spanish language, we were able to buy all of our groceries from the nearby supermarket. We bought yogurt, fresh fruit, eggs, and bread for breakfast, packed sandwiches for half of our lunches (went out for ceviche for the other half), and ate out for most of our dinners. Total for food? Under $300.
Bring Your Own Snorkeling Gear 
Or borrow from a friend, which is what we did. It's fairly easy to find good snorkeling along the eastern Mexican coast; if you're not sure where to go, ask the locals. We found out that green sea turtles were frequenting the coast, so we skipped rentals and used our own gear to swim out to where the guide boats were anchored—they're usually right next to the turtles. No one even noticed.
Head to the Beach Bars
Hotels in Tulum often have beachfront bars, hammocks, and beach beds and are more than happy to serve drinks and ceviche even if you're not staying at the hotel. Since it was off-season, the beaches were wide open and the bartenders were happy to have customers.
Ask the Locals 
For popular restaurants and best activities, we got the best tips from the car rental agency, the owners of the homes who rented out to us, our scuba instructor, and a few other locals we met along the way.
Total Expenses
Trip length: 10 days
Spanish proficiency: Barely
Flights (Indianapolis to Cancun): $800
Lodging (Tulum and Cancun, via Airbnb.com): $400
Car (Nothing parties like a rental): $200
Food, Scuba Diving, and Other: $300
Swimming with a whale shark (All day excursion, includes food and drinks): $200
Total: $1,900
Related articles